Susan has just signed up for yet another upcoming film from the makers of the matrix called 'Speed Racer'. The film, due out in 2008, is set to star John Goodman.
20th April 2007
Susan has recently signed up to do a new film 'Eleanor and Collette' in which she plays a psychiatry patient suing her hospital and she is rumoured to have signed on to 'Battle of Seattle' a political drama. More info will be added as I recieve it.
4th October 2006
Happy Birthday Susan! She has turned 60 today and i'm sure you'll all join me in wishing her a fantastic day.
4th October 2006
There's not been much new news to put up as Susan is currently busy filming 'Enchanted' in NYC. Heres a link to an article from Hello magazine giving some info on the movie and pic's of susan on the set looking like the queen of all evil. Click here also a link to just jared.com where you'll find more pics of Susan on location in NYC.Click here
Susan has signed up for a new film called 'The Colossus' which is due out some time in 2007. The film has already lined up the start of an outstanding cast including our very own Susan, Colin Firth, Ian McKellen and Rachel Weisz. As soon as more news appears about the movie i will post it up.
19th June 2006
Susan is in the top 10 women over 50 who are still looking gorgeous. At the top is the one and only Susan! Also appearing in the list are actresses such as Sharon Stone, Diane Keaton and Rene Russo. Click here for the list.
30th March 2006
Whilst attending the 'Bring em home now' benefit in New York Susan revealed she is in talks to play anti war activist Cindy Sheehan in an upcoming film. Click here for the full story.
Last month Susan took part in the opening ceremony of the winter olympics. She carried the olympic flag along with seven other women chosen to represent the olympic spirit of peace and reconcilliation. Other women taking part included italian actress Sophia Loren, chilliean writer Isabel Allande, nobel prize winners and olympic medalists.

In a poll by DVD company Love Film Susan's famous scene with Catherine Denuve from the 1983 vampire movie 'The Hunger' was voted the 10th sexiest moment on film. For the complete list click here.

29th March 2006
Its been announced Susan will guest star in the FX channel show Rescue Me. For more information click here
17th March 2006
Susan has signed up for a new film where she is to play evil Queen Narissa. The film 'Enchanted' which is half animation is due for release in 2007.
January 31st 2006
Susan has joined the women say no to war group to protest for the troops pulling out of iraq. She is joined by other global women which aim to collect 100,000 signatures to take to washington DC. For more info click here.
15th January 2006
Well with the new year upon us it brings with it a fair share of film festivals. This Autumn Susan will be honoured with a best supporting actress award in the Hollywood film fest alongisde Charlize Theron, Sam Mendes, Diane Keaton, Matthew Broderick and Joaquin Phoenix. The festival will attract over 1,200 people including a huge amount of A list stars by invitation only. For more info click here.
15th January 2006
I'd just like to wish you all a Happy New year and i hope you've had a fantastic christmas :-)
3rd January 2006
As Noel is now released on DVD, in a couple of weeks i am going to be reviewing it for the site. It'll be a couple of weeks yet though, but until then i'll try and keep you Susan fans updated on all the news.
5th December 2005
Well Susan is officially in London now. Yay! She was out and about at the Elizabethtown premiere last night and made sure she signed almost everyones autograph.. and the weather wasn't too good either. She is appearing on Parkinson on Saturday at 10:10 on ITV1. For those outside the UK i will be putting a link to some clips up on Sunday.
21st October 2005
Tune in!! Susan Sarandon will be a guest on "The Ellen DeGeneres Show" on Tuesday, October 25, 2005.Check your local listings or visit www.ellendegeneres.com for time and channel.
12th October 2005
HAPPY BIRTHDAY SUSAN!!! Yep Susan turns 59 today and she doesn't look a day over 40! Hope you have a fantastic day Susan.. you deserve it!
4th October 2005
Susan was at Madam Tussauds in New York recently for a TV show. Not a normal day for Susan though as she was posing as her waxwork model. When people came up to admire how life like she looked she put her arms around them as they posed for there photos. She was worried that she'd scare the children too much though.. bless her!
30th September 2005
Susan made a few appearances at this years Venice film festival where her films 'Elizabethtown' and 'Romance and Cigarettes' were premiered. Pictures coming very soon!
29th September 2005
Susan recieved an excellence award from the Locarno film festtival in Italy. Other recipients included John Malkovich.
Thursday 25th August
Susan has been voted the sexiest actress over 40 by 'Instyle' magazine. The magazine, which is to be published next month voted George Clooney as the sexiest actor over 40 and Brad Pitt and Angelina Jolie topped for the second year running. To see the full story click here.
25th August 2005
Susan is in final negotiations to star in Bob Balaban's 'Doris and Bernard'. Susan along with soon to be 'Bernard' Ralph Fiennes would start filming in October in New York City. The story is about a tobacco Billionairess Doris Duke and her butler Bernard Lafferty who she left all her money too. To view more info click here.
16th July 2005
Susan appeared on stage and the final leg of Bob Geldof's triumphant Live 8 campaign. Susan made her way onstage live in Edinburgh in front of an estimated 60,000 supporters to deliver a strong political speech to why the world leaders should back the Make Poverty History campaign. Whist being interviewed she said "If they (the leaders) don't care, they're going to have to do it publicly." A picture of her onstage at the 'Edinburgh 50,000 - the Final push' concert. For the full story click here.
8th July 2005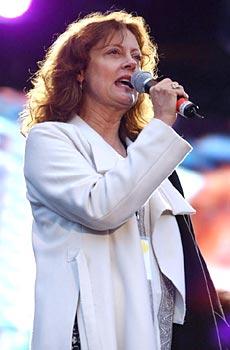 I'm sure that you have all heard about the London Bombings, my sympathies and prayers go out to all those involved. The world is thinking of you. Susan was down in the London train stations on Tuesday but is now safely in Scotland.
8th July 2005
If you've heard the rumours they indeed are true! Susan and Tim are in the UK now to back Bob Geldof's live 8 bid. Susan and Tim flew to London to board a train at Euston station to arrive at Edinburgh where the second British concert was too be held. To view pictures go to Getty images. Click here to be redirected.
5th July 2005
The Elizabethtown Trailer is now up on the web in which Susan is in. There is also a picture of Susan on the website and a behind the scenes video of the making of Elizabethtown. Click here to be directed to the Elizabethtown official website.
5th July 2005
As partner Tim has a role in War of the worlds, Susan, Tim and Eva attended the New York premiere. Susan looked gorgeous as did her daughter. A picture is shown below to view more click here and type Susan Sarandon into the search.
26th June 2005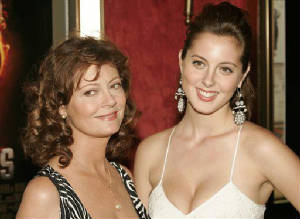 Susan was in Florida earlier this week .... playing baseball! She threw the first pitch to start the game between Milwaukee Brewers vs Tampa bay Devil rays. To see two pictures of Susan Sarandon pitching click here. and type Susan Sarandon into the search. There you will find hundreds of pictures of her.
17th June 2005
Susan is joining one of the biggest fund raising events of the year later this year. The star spangled concert is to be held in Singapore to raise money for the worlds disadvantaged children. The 6 hour concert will be the climax of the listen campaign 2005, which kicks off in London on the 13th of June. The concert is too be staged on the 1st October and Susan and Goldie Hawn have already signed up to participate.
11th June 2005
The release date for Shall we dance? in the UK has been announced as the 20th June. Click here for information.
2nd June 2005
Susan is back in America! I assume that she has finished filming 'Irresistable' in Melbourne, Australia and she has been spotted out with her girlfriends in California. So more news to come now!
9th May 2005
Susan's playing herself in a new Hollywood spoof called 'Jiminy Glick in LaLa wood'. Alongside her will be celebrities such as Janeane Garafalo, Whoopi Goldberg, Sharon Stone, Linda Cardellini, Steve Martin and Jake Gyllenhaal. It is due to be released May 6. For the full story click here.
27th April 2005
Susan has been voted the most 'green' in a recycling and environment survey alongside Leonardo DiCaprio.
27th April 2005
Susan is due to join thousands of people when AID walk 2005 in Central Park takes place next month.
27th April 2005
Sorry there has been no new updates for a while, but due to Susan being in Australia filming there hasn't been any news on her. As soon as there is though i will update. xox
17th April 2005
There hasn't been much news on Susan recently but that is because shes currently in Melbourne, Australia filming her new film Irresistable. Whilst taking a break with her partner Tim and the kids they went to see a Collingwood football game ; and became instant fans. To view the full story and a picture of the two kitted out in the black and white kit click here. And their modesty always shines through when they said 'We're having a great time, thanks for having us!'
30th March 2005
To view pictures and production videos of Elizabethtown and more stuff go to www.cameroncrowe.com . I have also found an interview that Susan did about the film a while back. Click here for the interview. Below is a picture from the up and coming film showing Susan looking great as usual!
Susan has another new film! Its a thriller called 'Irresistable' in which she plays a woman terrified that her husbands co worker is trying to steal her life. Filming is due to start mid march in Australia. Click here for the full story.
Susan has signed up for a new comedy film called 'Mr Woodcock'. The story is about a young man who is to be played by Seann William Scott who returns to his home town to attempt to stop his mother (Sarandon) marrying his old high school gym teacher (Billy Bob Thornton) who made his time at school living hell.
22nd February 2005
Susan represented the USA in Berlin, Germany this week. She is there with her long term partner Tim Robbins along with actors and actresses from other parts of the globe at the Cinema for Peace festival. Other actors there included Lord of the rings star Christopher Lee representing Britain.
13th February 2005
Whilst on the Ellen DeGeneres show on Wednesday, Susan joked with Ellen about how she had introduced her as academy award winner but reminded Ellen and the audience that she was also a four times nominated loser. She also reminissed on how Richard Gere was her date when she first attended in 1980 and insisted she is never going to have plastic surgery as it makes people either look like a burn victim or a female impersonator.
22nd January 2005
Susan is going to be tackling the question "What matters most" at Boston's world trade center on the 30th April. 2,500 business women are scheduled to attend to see some of America's most powerful women debate this question.
22nd January 2005
Susan as the one of the new faces of Revlon will be in magazines in February the company have said. Susan joins Kate Bosworth, Julianne Moore and Halle Berry as representives of the cosmetics company.
18th February 2005
T.V show 'The Exonerated' starring Susan, Brian Dennehy, Aiden Quinn, Danny Glover and David Brown Jr is set to make its debut on the 27th January at 9PM! One to watch out for :-)
18th January 2005
She attended a recent arts and leisure weekend at a graduate centre along side Bill Murray.
7th January 2005
Susan is participating in a bit fundraising event for the terrible tragedy that was the Tsunami. Susan along with Debra Messing, Julianne Moore and Dustin Hoffman will be hosting the fundraising on Wednesday on NBC.
4th January 2005